At Spokane Emergency Dental Pros we offer affordable and professional emergency dental services. You can call our 24-hour dental practice 7 days a week. Our dentistry experts are available right now to help you or a family member with any dental emergency.
Our dentistry experts are trained to assist patients who face difficult dental emergencies. When you have severe dental injuries or acute tooth pain it is important to get help immediately. Dental injuries and other tooth problems are susceptible to infection. Once an infection takes hold it can worsen and spread to other areas of the body.
Our Spokane and Spokane Valley emergency dentists can provide quick pain relief and assess your condition to prevent or arrest bacterial growth in your teeth or gums. A fractured tooth, broken teeth, knocked-out teeth, or a toothache are dental emergencies that need attention right away.
If you are exhibiting symptoms of bleeding or swelling in your mouth you should visit our office immediately.
Most dental care offices have limited business hours – Monday through Friday. When a family member is dealing with a difficult dental problem, you can count on Spokane Emergency Dental Pros round-the-clock expert dentists to handle any dental emergency.
Don't be lured by discount offers from unscrupulous dental companies. When a dental emergency happens, the last thing you want to do is question the experience, qualifications, and motivation of your emergency dentist. When it comes to emergency dental care, our experienced dentist puts your oral health first.
For professional and quality dental care in Spokane and Spokane Valley, call our dental care team for treatment of severe dental emergencies and pain relief. Patients can call us for their knocked-out tooth, gum or mouth bleeding, broken tooth, toothache, lost filling, or any other dental injury.
Don't wait. Call now.
What to do when you have a Dental Emergency?
A severe dental problem requires an urgent dental solution and should be addressed as quickly as possible. But sometimes the trauma of a severe injury or accident can cause us to panic and freeze. Staying calm will allow you to focus and take the best course of action.
If you are unsure what to do, call our number right away. Our Spokane Valley emergency dentistry experts can guide you on the steps to take while you wait to see a dentist. Knowing what to do will give you peace of mind.
There is no reason to wait for the next day. Call us as soon as possible to schedule an appointment. Our Spokane and Spokane Valley dental care centers are open 24 hours.
When you are in pain from dental trauma you need to see an emergency dentist immediately. A broken tooth can put your oral health at risk. When your tooth is exposed to bacterial infection, the clock is ticking. For an urgent dental care solution, visit us or contact our office for an appointment right away.
Emergency Dental Care of Spokane
Sometimes a patient has to deal with dental trauma when they least expect it. You might be exploring Riverfront Park when an accident causes a cracked tooth.
If you are experiencing a dental emergency like acute tooth pain or cracked teeth, you need help as soon as possible. Your general dentist might be closed for the day or they may not be equipped or have the expertise to handle an emergency.
Our Spokane WA dentists are trained and skilled professionals whose primary focus is emergency dental care. Our specially equipped emergency room and Spokane dental team will handle your dental issue or acute tooth pain quickly. Our friendly staff will examine your teeth and gums, diagnose the problem and provide a solution.
During their visit, each patient is given personalized attention. Our emergency dentist will get to work right away. Every effort will be made to preserve your natural teeth. If an extraction or other specialized treatment is necessary our emergency dentist will refer you to an endodontist or other dental expert.
Don't suffer in pain. Make the right call and get pain relief today.
Common Dental Emergency in Spokane
Our Spokane and Spokane Valley dental care team deal with common dental emergencies like a toothache, broken tooth, or knocked-out teeth on a regular basis.
When you are experiencing a dental emergency, there are some things you can do to relieve pain and address the symptoms of trauma. For bleeding, you can rinse your mouth with warm water and gently apply pressure with a clean towel. For swelling, use ice or a cold compress to deaden the pain and reduce swelling.
For a knocked-out tooth, it is possible to recover the tooth and have a qualified dentist place it back in the socket. First, collect the tooth and rinse it with clean water and place it in your mouth or in a glass of milk. When you rinse the tooth, hold it by the crown, not the root. If you act quickly and don't delay for hours, your emergency dentist may be able to place the tooth back in your mouth.
Patients who need urgent dental services should call our phone number and schedule an appointment with our dentistry team immediately. Our practice ensures each patient leaves our office with a smile.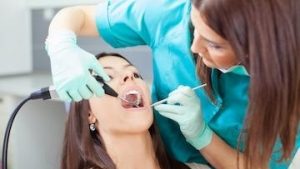 Do You Need Oral Surgery?
Depending on the situation, your Spokane urgent care specialist might refer you to an oral surgeon.
If a molar needs to be extracted or you need dental implants your dentist may advise a consultation with an oral surgeon. An oral surgeon is a dentistry expert whose treatment services include reconstructive surgery, soft tissue manipulation, and jaw repositioning.
Oral surgeons can help patients with trauma who need immediate and extensive dental care treatment. Our office will refer you to a dental surgeon if it is appropriate. Dental care by an oral surgeon can include both urgent emergency care and cosmetic dentistry.
Contact us to schedule an appointment with our Spokane or Spokane Valley team for a comprehensive examination of your teeth and gums.
Visit Our Dental Office Today, Same-day Appointments
For patients in Spokane WA, Spokane Valley, and the surrounding Washington area, our emergency services are available 24 hours a day. Contact our office if you have any questions about our dental emergency service or if you need immediate care.
It doesn't matter if it's a Tuesday 7 00pm or a Wednesday 7 00pm, our dentistry experts are waiting for your call. To schedule an appointment, contact us as soon as possible, day or night. Our expert dental care is sure to bring a smile to your face.
Call our phone number to get help right away.
Emergency Dental Pros
601 W 1st Ave Suite 1400, Spokane, WA 99201, United States
(855) 407-7377
Communities We Serve:
99026, 99201, 99202, 99203, 99204, 99205, 99207, 99208, 99212, 99217, 99218, 99223, 99224.